STRONG FLARE, INCOMING CME: Departing sunspot AR1429 unleashed another strong flare on March 13th, an M7-class eruption that peaked around 1741 UT. Although the sunspot is no longer directly facing Earth, the blast will affect our planet. Analysts at the Goddard Space Weather Lab say a CME is en route to Earth, and its impact on March 15th at 06:20 UT (+/- 7 hours) could trigger minor to moderate geomagnetic storms. Space weather alerts: text, phone.
WILL COMET SWAN SURVIVE? Sungrazing Comet SWAN, discovered just last week by SOHO's SWAN instrument, is diving toward the sun and it is unlikely to survive. SOHO images taken during the late hours of March 14th suggest that the icy visitor is rapidly evaporating: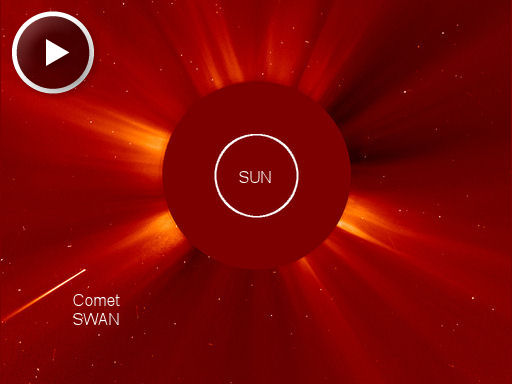 Comet SWAN is a Kreutz sungrazer, a fragment of the same ancient comet that produced sungrazing Comet Lovejoy in Dec. 2011. Comet Lovejoy famously survived its brush with the sun and put on a flamboyant show after it emerged from the solar fires. While Comet SWAN is cut from the same cloth, it appears to be a smaller fragment, and thus less likely to emerge intact. Much depends on the comet's orbit. "We still don't know how close Comet SWAN will come to the stellar surface," says comet expert Karl Battams of the Naval Research Lab in Washington DC. "I don't think this comet will make it. We have seen Kreutz comets almost as big as this one that have certainly not [survived]. So the odds are stacked against it."
Stay tuned to Karl Battam's blog for updates.
VENUS-JUPITER CONJUNCTION: This is a great week to admire the sunset. Venus and Jupiter are side-by-side only ~3o apart in the western sky, beaming through the twilight as soon as the sun goes down. Photographer Marek Nikodem of Szubin, Poland, recorded the scene at nightfall on March 12th: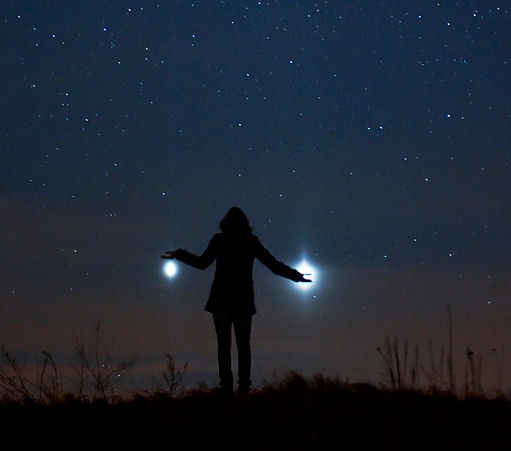 "Venus and Jupiter are like two lanterns illuminating the darkness," says Nikodem. "It's a wonderful sight."
Try to catch the duo before the sky fades completely black. Venus and Jupiter surrounded by twilight blue is a wonderful sight indeed.
more images: from Jimmy Westlake of Stagecoach, Colorado; from Peter Wine of Dayton, Ohio; from Laurent Laveder of Pluguffan, Brittany, France; from Rhiannon Palframan of Cookham Dean, Berkshire, UK; from John Cordiale of Edgecomb Pond, Bolton NY; from Ulf Jonsson of Luleå, Sweden; from Alexander Birkner of Eppelborn, Germany; from Diana Bodea of Ibiza, Spain; from Andrey A. Belkin of Moscow, Russia; from Vesa Vauhkonen of Rautalampi, Finland; from Mitchell Krog of Magaliesburg, South Africa; from Sven Melchert of Stuttgart, Germany; from Bob Northup of Studio City CA
BROKEN RECORD? The recent sustained activity of sunspot AR1429 has kept the Arctic Circle alight with auroras for almost two weeks. "I have spent many thousands of hours watching and photographing the Northern Lights," says aurora tour guide Chad Blakely of Abisko Sweden, "and I can honestly say that I have never seen the auroras this strong for so many days in a row." In a movie he made last night, March 12th, a green tornado of light swirls across Venus and Jupiter: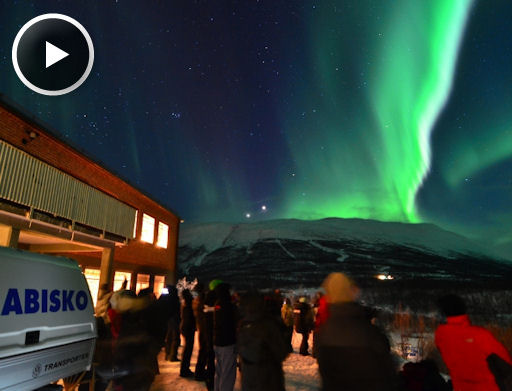 "We were all absolutely stunned by the natural beauty of this display," says Blakeley. "I know I sound like a broken record, but sunspot 1429 just will not stop!"
The Antarctic Circle has been similarly active. Click on the links for recent shots of Southern Lights: from Dave Headland of Oamaru, New Zealand; from Ian Stewart of Tinderbox, Tasmania, Australia; from Nick Monk of Mountain River, Tasmania, Australia; from John Golja of Tooradin, Victoria, Australia; from Stephen Voss of Invercargill, New Zealand; from Dave Headland of Oamaru, Southern New Zealand
Posted on:
March 14, 2012